For more than 75 years, Boys & Girls Clubs of Metro Atlanta has provided at-risk metro area youth with the support needed to reach their full potential. With engaging programs and supportive staff, the organization offers kids and teens a safe place to learn and grow, and helps them succeed in school, live healthy and become leaders.
The mission here is significant and the employees do not have extra time to spend on finding information and every day technology issues. The Club needed help streamlining their communication and access methods and that's where BCG Systems was able to jump in and help by implementing Microsoft Office 365.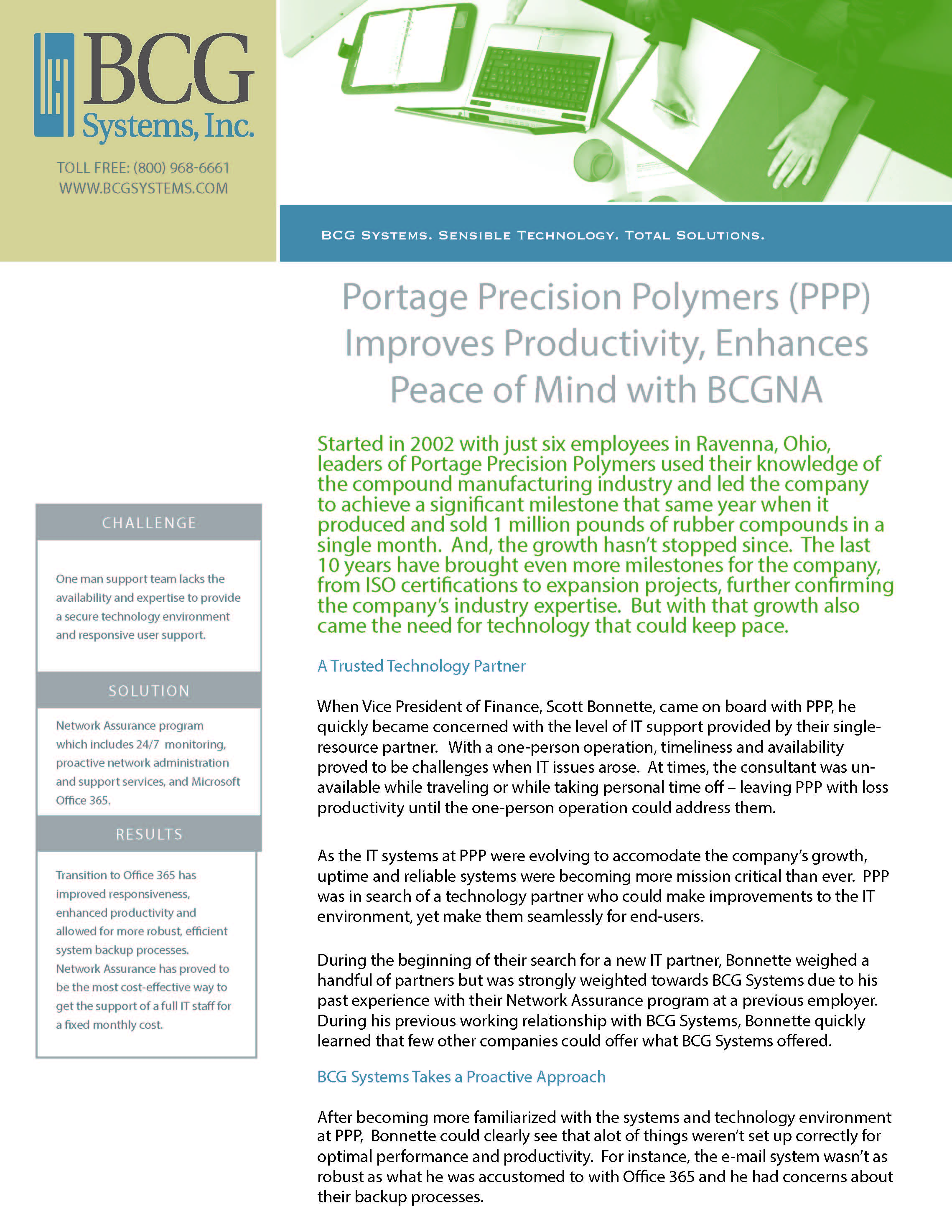 Portage Precision Polymers (PPP) Improves Productivity, Enhances Peace of Mind with BCGNA

The last 10 years have brought a period of immense growth for Ravenna, Ohio-based Portage Precision Polymers. However, with that growth also came the need for technology that could keep pace. When Vice President of Finance, Scott Bonnette, came on board with PPP, he quickly became concerned with the level of IT support provided by their single-resource partner. After enlisting the IT expertise of BCG Systems, work quickly got underway to transform the IT environment at PPP.
Download the Portage Precision Polymers (PPP) success story

Premiere Medical Resources Makes Unified Communications a Reality with Microsoft Lync
In today's healthcare environment, with physician's and their staff becoming increasingly mobile, Premiere Medical Resources - provider of administrative and management services to physician practices throughout Northeast Ohio - was in search of a way to bring consistency to the communications experience across their nearly 30 physician offices. Microsoft Lync quickly rose to the top as a solution of choice based on its robust enterprise voice, instant messaging, screen sharing, and audio/video/web conferencing capabilities.
Download the Premiere Medical Resources success story
LRC Realty Inc. Improves Business Efficiency with
Microsoft Office 365
Since its founding in the 1980's, LRC Realty Inc. has grown from a three or four person operation to a firm employing over 25 associates today. As the firm has grown, so too has its need for a consistent, synchronized source of data that is accessible from any location, at any time. However, budget and resource constraints were top of mind during the search for a solution. Microsoft Office 365 was presented by BCG Systems as a cost-effective, reliable solution for LRC Realty. Since implementing the cloud-based technology, LRC Realty has been able to integrate e-mail across the board and now relies on Exchange-based sharing of e-mail, calendars, contacts and more.
Download the LRC Realty success story

Speelman Electric, Inc.: Speelman Electric, Inc. Improves Workforce Mobility with Microsoft Office 365
With over 30 years of experience in electrical design, installation, testing and predictive maintenance, Tallmadge, Ohio-based Speelman Electric, Inc is the go-to team in their industry. However, managing an increasingly mobile workforce and their growing IT needs was not their forte. The firm supports an office staff of approximately 18, in addition to 75 field-based electricians who all require access to company data regardless of location. Faced with aging equipment and the added pressure to be responsive to customer needs, the company knew it was time for IT enhancements across the board. Working with BCG Systems, Speelman Electric implemented Microsoft Office 365. This has allowed their organization to grant mobile access to company foremen in the field, while simultaneously improving workplace collaboration and alleviating the IT administration burden.
Download the Speelman Electirc, Inc. success story.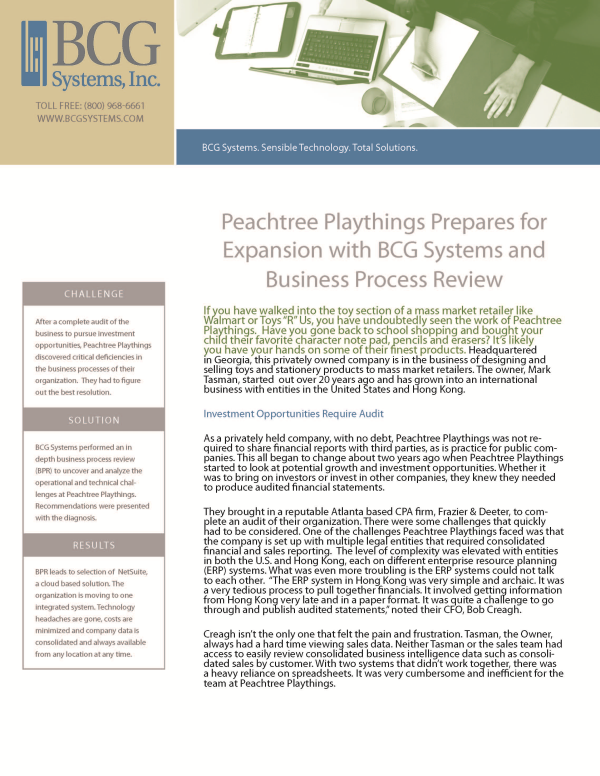 Peachtree Playthings Prepares for Expansion with BCG Systems and Business Process Review
After a complete audit of the business to pursue investment and growth opportunities, Peachtree Playthings discovered critical deficiencies in the business processes of their organization. They had to figure out the best resolution. They partnered with BCG Systems to get an in depth business process review (BPR) to uncover and analyze the operational and technical challenges in their organization. BCG Systems presented recommendations with the diagnosis. The BPR lead to the selection of a cloud based solution. The organization is now moving to one integrated system. Technology headaches are gone, costs are minimized and their company data is consolidated and always available from any location at any time.
Download the Peachtree Playthings success story.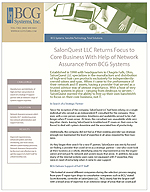 SalonQuest LLC: SalonQuest LLC Returns Focus to Core Business With Help of Network Assurance from BCG Systems
Established in 1998, SalonQuest LLC specializes in the manufacture and distribution of high-end hair care products exclusively for independently-owned salons and spas. When it came to the performance of their network and IT assets, having a provider that served as a trusted advisor was of utmost importance. With a host of very broken systems in place, SalonQuest wanted the ability to free up their own bandwidth to focus on their core business, not IT. As they began their search for a new IT partner, the company was strictly focused on finding a provider that could serve as a strategic partner - and they found just that with BCG Systems. BCG Systems closely considered the IT challenges faced by SalonQuest and made the recommendation to transition to the Network Assurance Program, a managed services program that would enable the company to gain control of their IT support while delivering the protection of a full IT staff.